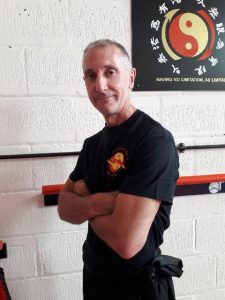 Steve has a very comprehensive list of personal achievements throughout his career as a Martial Artist, a few of these are listed below:
Steve recently completed his life story in the form of an Autobiography called A Life in Chorley detailing how he became a martial artist.
Steve is the Guinness book World record holder for the most press-ups completed on just his thumbs. (video). The event was in aid of Derian House Children's Hospice.
Co-produced and co-directed 'LIFELINE' a short film by Ian Dickinson, about the benefits of Martial Arts for young people and was distributed to schools.
Appeared in several national magazines and has written articles for them.
Accepted a sponsored board break event that helped to make thousands of pounds for a charity appeal in 2006.
Collected hundreds of pounds for the Macmillan charity by organizing sponsored events.
In 2010 Steve produced, wrote, directed, choreographed and edited a short promotional film for the purpose of helping to promote the talents of actor Laura Wilson.
Although Steve has trophies for fighting in the early days and several other events over the years, one of his favourites was receiving 'Northwest Student of the Year' in 1986 from the renowned Martial Arts master, Chris Boughey, Steve's instructor at the time.
Presentations made to him from his students over the years.
On-going fundraising events for charities such as Derian House
Training:
Steve has had a broad range of training from a wide range of styles and tutors
He has trained every year since the early 1990′s with world famous Martial Arts master Dan Inosanto ~ The highest authority in JKD. Bruce Lee's no.1 student, friend, training partner and film co-star.
Other world famous Bruce Lee students that Steve has had personal tuition from include:
Steve started his training in March 1974 with the famous Judo and Aikido master, the late Mario Mucha
Trained simultaneously in Judo (achieving black belt), Wing Chun, Western boxing and Yang style Tai Chi Chuan in the 1970′s
Was trained throughout the 1980′s in Kung Fu by the famous Martial Arts master Chris Boughey.
Trained on several occasions in the 1980′s with world famous kick boxing legend and Elvis Presley's instructor Bill 'superfoot' Walace.
Trained and traded knowledge with friends in Muay Thai and Wing Chun during the 1990′s
People:
Steve has met Bruce Lee's Daughter – Shannon Lee, who talked at length about her late dad.
Other friends, students and film co-stars of Bruce Lee Steve has met and talked with are:
Taki Kimura – top Bruce Lee Student and friend. ( Video )
Robert Baker – the late Fist of fury co-star, student, friend and body guard to Bruce.
John Saxon – Enter the Dragon co-star.
Jim Kelly – Enter the Dragon co-star.
Paul Heller – producer of Enter the Dragon.
Norman Boreen – friend of the Bruce Lee family and creator of the Hollywood museum owning many of Bruce's personal possessions including his nunchaku which Steve was allowed to hold!
---